Saturday
February
5

, 2011 - Day

5


Lectures at SWU College of Medicine & Vasectomies at Visayas Community Medical Center
All graduates of Southwestern University College of Medicine, NSVI Mission Members Ramon Suarez, wife Nenita Suarez, and son Ronald Suarez were invited to give presentations at the Saturday morning lecture series for medical students, as were Drs. Doug Stein and Bob Norland, and Filmmaker Jonathan Stack.

Following acceptance of certificates of Appreciation ...
... the NSVI team headed over to the Visayas Community Medical Center, sponsored by the United Church of Christ of the Philippines.

Rev. Mesquias Camba, Jr. was a most gracious host,

and his excellent staff was eager to learn.


Drs. Suarez and Alesna operate and teach, while the OR Director and NSVI's RN Myrna Danuco (left) make sure they do a good job.
From a provider standpoint, the beauty of No-Scalpel Vasectomy is that it "can be taken with us". Here Myrna can pack everything we need to perform 100 vasectomies into the back of her SUV. That includes instruments; disposables; sterilization solutions and equipment; and promotional goodies for men to distribute to their friends. In fact, NSVI missioners, while delighted to work in air-conditioned operating rooms with eager local staff and students, can really provide no-scalpel vasectomy with nothing more than a room and patient tables. We even bring our own sterile water and head-mounted operating lights, so we don't even need electricity!

Even though the American contingent of NSVI covers their own expenses and volunteer their time, our in-country staff in the Philippines need to support themselves and their families, so they are paid by NSVI. But their pay is based upon results - the more vasectomies we perform, the more they are paid. That is why donors to NSVI cannot go wrong. Because administrative costs are negligible, your donations go directly to prevention of unintended pregnancies through vasectomy, and at the same time (1) help reduce complications that arise from multiple pregnancies, (2) allow parents to more effectively nurture and provide for smaller families, and (3) slow the rate of population growth that takes such a toll on the environment and the balance of nature. To donate, you may go right NSVI's third party secure donation site sponsored by Pledgie.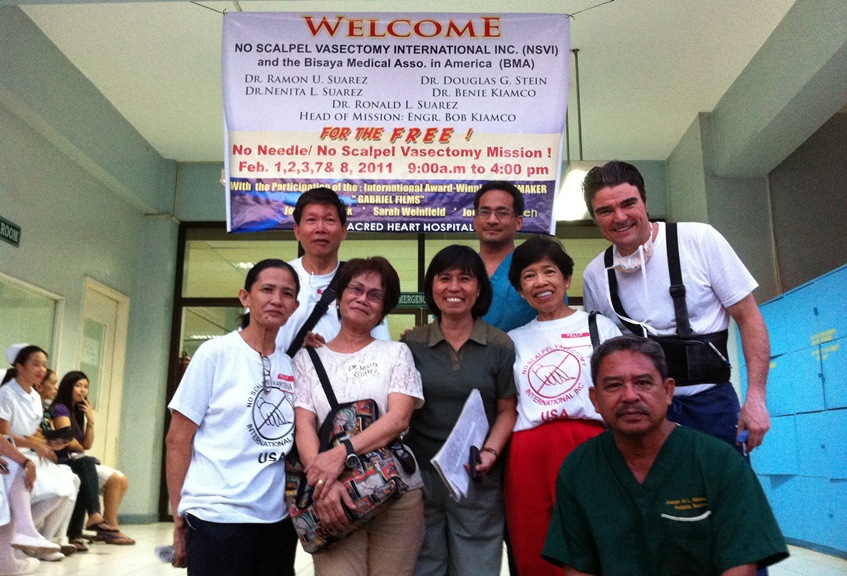 The No-Scalpel Vasectomy International Team:
From the left in the photo above:

Home Base:

Role with NSVI:

Myrna Danuco, RN
Cebu, Philippines
Director of Surgical Supplies and Services
Robert Kiamco, MSME
Chicago, IL USA
Chairman of the Board, Director of Missions, Facilitator/Counselor
Benita Suarez, MD
Lebanon, PA USA
Vice-President, Facilitator/Counselor, Director of Accommodations and Transportation
Frohnie Cagalitan, MSW
Cebu, Philippines
In-country Mission Coordinator, Facilitator/Counselor
Ronald Suarez, MD
New York, NY USA
Mission Vasectomy Services Provider
Benita Kiamco, MD
Chicago, IL USA
Secretary-Treasurer, Facilitator/Counselor, Pre- and Post-op Coordinator
Joseph Alesna, MD
Cebu, Philippines
Mission and Year-long Vasectomy Services Provider
Doug Stein, MD
Tampa, FL USA
Mission Vasectomy Services Provider, Director of Development
Ramon Suarez, MD
(in Mindanao with the BMA
during the photo directly above)
Lebanon, PA USA
President, Director of Fundraising, Mission Vasectomy Services Provider
Title Page




NSVI 2011 Mission

Day 1


Arrival




Vasectomies at Sacred Heart Hospital

Day 2


Billboards and Politics

Day 2


Gawad Kalinga

Day 5


Lectures at SWU Medical School




Vasectomies at Visayas Community Medical Center

Day 8


107 vasectomies




at Sacred Heart Hospital