Vasectomy in Orlando, Florida:
At
Planned Parenthood of Greater Orlando (PPGO),
vasectomies
are performed every 8 to 10 weeks by
Dr. Doug Stein
, who uses
no-needle
local anesthesia and a
no-scalpel
technique. Vasectomies are performed on certain
Thursdays
. For exact dates, see
Dr. Stein's Outfield Schedule
. Patients may return to easy jobs (walking and driving are fine) on Friday, but men with strenuous jobs should plan to take the day off on Friday. The fee is
$590
. All patients receive a properly coded receipt that they can submit to their
insurance
carriers, where applicable, for reimbursement. A
deposit of $100
is required to be scheduled (see below).
(See
Financial Aid
at the bottom of this page! The Orange County Health Department allows Planned Parenthood to administer their generous financial assistance program under Title 10!)

The new Planned Parenthood clinic in Orlando is at 726 S. Tampa Avenue (zip code 32805).
Telephone (407) 246-1788.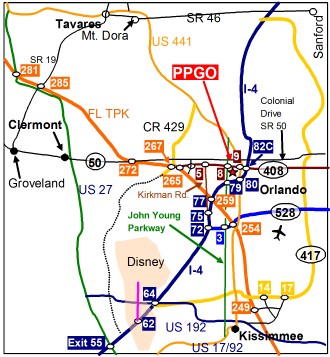 PPGO
is conveniently located in the heart of Orlando on Tampa Avenue just south of the East-West Expressway (State Road 408)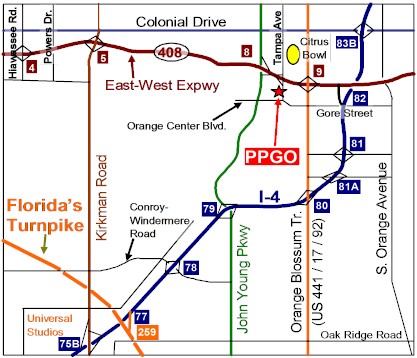 Tampa Avenue is between the
John Young Parkway
and
Orange Blossom Trail (US 441/17/92)
From the north and northeast, get off I-4 at Exit 82C and take 408 west to Exit 9 (Orange Blossom Trail). Go left at the end of the ramp and take Orange Blossom south to Gore Street, then right on Gore to Tampa Avenue and right again. Planned Parenthood will be on your left. OR, take I-4 to the Gore Street Exit (82B). Drive west on Gore Street 1.1 miles to Tampa Avenue (Gore actually veers right and becomes Orange Center Boulevard just before you get to Tampa Avenue.) Turn right on Tampa Avenue and PP will be 0.2 miles up on the left.
From the southwest (Lakeland / Winter Haven), take I-4 to Exit 79 (John Young Parkway). Travel north on John Young Parkway 1.6 miles to Orange Center Boulevard. Turn right and take Orange Center Boulevard to Tampa Avenue. Turn left and PP will be about 100 yards up on the left side.

View on approach from the south.
From the west and northwest, take the Florida Turnpike to 408 eastbound. Take 408 to Exit 8. the off ramp leads directly to Tampa Avenue. Turn right and Planned Parenthood will be on your right.

View on approach from the north.









Or if you prefer a Google Map >>>

The counseling process can be done online by (1) reviewing Dr. Stein's vasectomy page, (2) viewing the online counseling video, and (3) reading the vasectomy info sheet or vasectomy info sheet Spanish version (this is a PDF file viewable with Acrobat Reader®, available here as a free download if you don't already have a copy of Acrobat Reader® on your computer), which you will be asked to sign prior to your procedure. So only one visit is required, but you will have Dr. Stein's office, home, and cell phone numbers so that you can always reach him if you have questions after your procedure. You will also be given a mailer, so that you can send a semen sample to Dr. Stein's Tampa office 12 weeks after your vasectomy to be sure that your semen is sperm-free. We also strongly encourage you to pre-register on our On-line Vasectomy Registration page. On arrival for your vasectomy, you will still have to complete a few forms for Planned Parenthood, but your registration with Dr. Stein will be complete. You can download the Planned Parenthood forms HERE, print pages 1-5, fill them out, and bring them with you. That way, you will have less to do on the day of your procedure.
To schedule, please call Dr. Stein's office at 813-903-1902 or toll-free 866-827-8463. Again, a deposit of $100 is required to be scheduled. The deposit is fully refundable until 14 calendar days prior to the appointed vasectomy date, non-refundable thereafter for either cancellation or postponement. The deposit can be paid by providing a VISA/MasterCard number to Dr. Stein's Tampa office (813-972-1365 or 866-827-8463) or by mailing a check or money order payable to Douglas G. Stein, MD to his Tampa office (Douglas G. Stein, MD, PA; 3000 E Fletcher Avenue; Suite 330; Tampa, FL 33613). The balance of the fee ($490) is due on the day of the vasectomy, payable to Planned Parenthood by cash, check*, or Visa/MasterCard/AmericanExpress.
*Note: PPGO uses TeleCheck to verify personal checks. If you have a history of bounced checks, TeleCheck may not approve your check, even if there are sufficient funds in your account at present. PPGO also does not accept starter checks or business checks.
If your vasectomy is covered by an insurance company with which Dr. Stein is a contracted provider, your deposit will be returned to you when we are paid by your insurance company. Itemized and properly coded receipts are provided, and these may be submitted to insurance companies with which Dr. Stein is not a contracted provider in an attempt to get reimbursement or credit toward your deductible. To learn whether your insurance company will cover a vasectomy at this site, please call your carrier and ask the 5 questions listed here.
Dr.Stein also performs vasectomies in
Kissimmee
,
Lakeland
, and
Vero Beach
, alternative Central Florida locations if the Orlando location or dates are not convenient.
Financial Aid
Men who have a low income and no health insurance may seek
financial assistance for vasectomy services
at the main office of the
Orange County Health Department
or by calling Planned Parenthood directly at
407-246-1788
. Federal
Title X (Ten) funds
are available! Financial screening and counseling for men seeking assistance through the
Orange CHD
are done
right at Planned Parenthood!
Alternatively, the Seminole County Health Department also has a Title 10 assistance program. Financial screening and counseling and done at the Sanford Location. Vasectomies for the Seminole CHD are also performed by Dr. Stein at Planned Parenthood of Greater Orlando.