Welcome to the Vasectomy and Reversal Centers of Florida!
Our Mission
To make vasectomy services so readily available, affordable, and personally acceptable that no pregnancies are caused by men who have reached a mature decision not to have any or any more children. This goal is achieved in part by also providing vasectomy reversals with success rates comparable to those of other experts, but at a cost which puts vasectomy reversal within the financial grasp of the average vasectomy patient, thereby making vasectomy itself more appealing.
Practice Profile
The Vasectomy & Reversal Centers of Florida (1986) is a division of Douglas G. Stein, MD, PA, incorporated in Florida in 1984. The name is intended to convey an interest in, and dedication to, quality male contraceptive services.
Douglas G. Stein, M.D. is Board Certified in Urology. Read more in his personal profile page.
John G. Curington, M.D. is Board Certified in Family Medicine. Read more in his personal profile page.
Vivian Nelson, AA
(Medical Arts) has been with Dr. Stein since 1984 and Office Manager for most of that time. Her office skills are no less important to the organization than are Dr. Stein's surgical skills, and we are well aware that a patient's first and last office contacts are usually with support personnel. After 30 years of experience with all aspects of vasectomy and reversal care, both personal and technical, she is truly an indispensable asset to the practice. In addition to running the office, Vivian handles insurance and patient billing, payment processing, and ordering all medical and office supplies used by the practice, not to mention preparing all of the paperwork (pre-registrations, consents, and coded receipts) needed to be sure that the outfield schedule runs smoothly.
Sergio Velasquez
has been with Dr. Stein since 2011. He is the Spanish voice of the practice, responsible for providing our large Spanish-speaking patient population with information about vasectomy and reversal and for scheduling their appointments at many of the 15 Florida locations served by this practice. Under Vivian's close supervision, Sergio also scrubs, packs, and sterilizes the 70-80 sets of no-scalpel vasectomy instruments used by Dr. Stein every week, and loads the "Goody Bags" provided to each vasectomy patient with semen sample mailers, instructions, and promotional information and trinkets. Sergio greets patients on vasectomy days and makes sure that they leave fully informed about follow-up care.
Our home office
is in the Fletcher Medical Center in North Tampa just next door to Florida Hospital Tampa (formerly University Community Hospital), on the northeast corner of Fletcher Avenue and Bruce B. Downs Boulevard.
Our suite is on the third floor right in the center of the building facing west (just under the lettering of the building's name in the photo).
Financial Assistance
Health insurance often covers vasectomy, or, for men with unmet deductibles, provides for a lower contracted fee (look HERE).
Low-income men without insurance can usually get financial aid (often full coverage) under Title 10 through a county health department. This office is the vasectomy services provider for the Hillsborough County Health Department, the Hernando County Health Department, the Pinellas CHD, the Polk CHD, and the Pasco CHD. All of these counties have excellent programs of financial assistance under Title 10 for men who have no health insurance. Please click any health department name above or here to learn more about Title 10.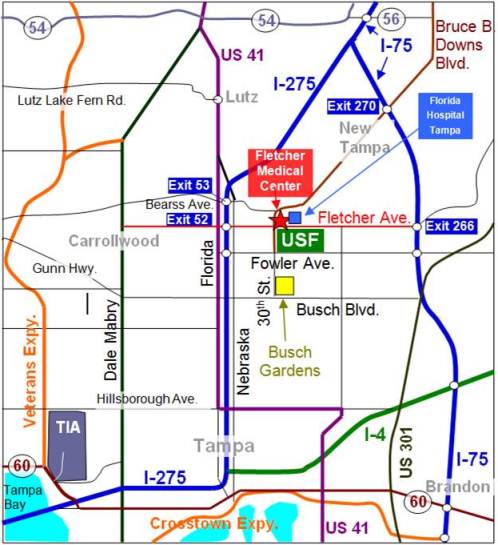 Contact Information
| | |
| --- | --- |
| Office Hours: | Monday - Friday 9:00 AM to 4:00 PM ET |
| Telephone: | 813-972-1365 |
| FAX: | 813-971-9529 |
| Postal address: | 3000 East Fletcher Avenue |
| | Suite 330 |
| | Tampa, Florida 33613-4645 |
| Directions: | Click here |
| Local Accommodations: | Click here |
Call toll-free 866-VAS-TIME
(866-827-8463)
Visitor Page
On-line Vasectomy Registration
Return to top