New Vasectomy Location in Naples/Ft. Myers!
Please click HERE.
As of December 1, 2019, Drs. Stein and Curington will no longer provide vasectomy services at Planned Parenthood. This was NOT our choice NOR that of Planned Parenthood. Drs. Stein and Curington have provided vasectomy services at various Planned Parenthood clinics since 1996. TRUMP has issued an executive order that because we provide vasectomy services under the federal Title X program, we cannot provide vasectomy services at Planned Parenthood for even our private (non-Title X) patients. Details HERE.
In fact, we retain all of the information below with the hope that the election of 2020 will result in a new administration, a more rational health care policy, and a return to provision of vasectomy services at Planned Parenthood. For now, patients are asked to see us at our new location in Ft. Myers.
Vasectomy in Naples, Florida:

At the Naples clinic of
Planned Parenthood of Southwest and Central Florida
, Drs. Doug Stein and John Curington provide vasectomies on certain Saturdays every 8-10 weeks. They use
no-needle
local anesthesia and a
no-scalpel
technique. For exact dates, see their
Outfield Schedule
. The fee is
$590
(often covered by health insurance and Title 10) payable by cash, check, or
Visa/MasterCard
. A
deposit of $100
is required to schedule (see below).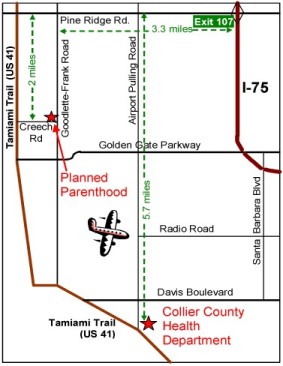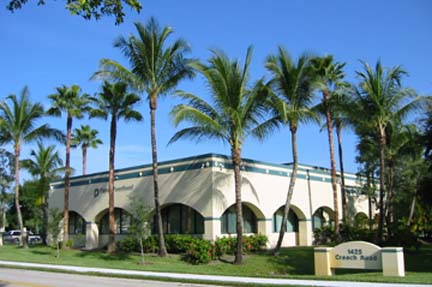 The address is:
1425 Creech Road
Naples, Florida 34103
Telephone:
(239) 262-0301
Directions: From I-75 Exit 107, go west on Pine Ridge Road 3.3 miles until you reach Goodlette-Frank Road. Turn left (south) and drive 2 miles to Creech Road. Turn right and the clinic will be on your right.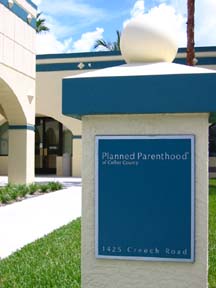 The
counseling
process can be done
online
by (1) reviewing our
vasectomy page
, (2) viewing the
online counseling video
, and (3) reading the
vasectomy info sheet
or
vasectomy info sheet Spanish version
which you will be asked to sign prior to your procedure. So
only one visit is required
, but you will have our office, home, and cell phone numbers so that you can always reach us if you have questions after your procedure. You will also be given a
mailer
, so that you can send a semen sample to our
Lutz/Tampa office
12 weeks after your vasectomy
to be sure that your semen is sperm-free.
To
schedule
, please call our office at
813-536-1430
or
toll-free
866-827-8463
.
A
deposit of $100
is required to schedule. The deposit is fully
refundable until 7 calendar days
prior to the appointed vasectomy date,
non-refundable thereafter
for either cancellation or postponement. The deposit can be paid online with a credit card during pre-registration,
or
by providing a
VISA/MasterCard
number to our Lutz/Tampa office (813-536-1430). The
balance
of the fee (
$490
) is
due on the day of the vasectomy
, payable to Planned Parenthood by cash, or
Visa/MasterCard/Discover.

Personal checks are not accepted.
If your vasectomy is covered by an insurance company with which we are a contracted provider, your deposit will be returned to you when we are paid by your insurance company. Itemized and properly coded receipts are provided, and these may be submitted to insurance companies with which we are not a contracted provider in an attempt to get reimbursement or credit toward your deductible. To learn whether your insurance company will cover a vasectomy at this site, please call your carrier and ask the 5 questions listed here.
We also strongly encourage you to pre-register on our On-line Vasectomy Registration page. On arrival for your vasectomy, you will still have to complete a few forms for Planned Parenthood, but your registration with us will be complete.
Saturday vasectomy services are also provided at the nearby
Ft. Myers
clinic of Planned Parenthood of Southwest and Central Florida.