Vasectomy in Aventura, Florida:
serving Dade and Broward Counties
(Ft. Lauderdale, Miami, and nearby communities, including Miami Beach, Miami Shores, Miami Lakes, Miami Springs, Miramar, Bal Harbour, Biscayne Gardens, Coral Springs, Cooper City, Hollywood, Hialeah, Tamarac, Opa-Locka, Pompano, Plantation, Pembroke, Margate, Southwest Ranches, Weston, Dania Beach, Davie, and Hallendale)
Biscayne Medical Arts Center (BMAC) Suite 203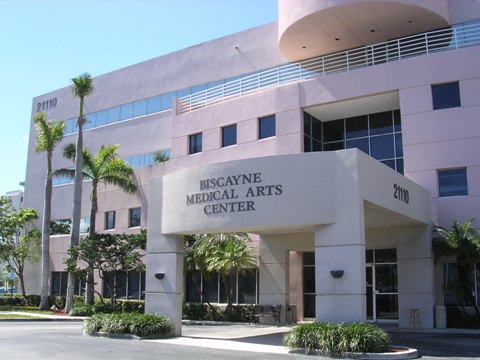 BMAC Suite 203, within the Aventura Hospital and Medical Center complex, is the office of MedFlorida Medical Centers of Florida, directed by Mazin Shikara, MD, who is kind enough to allow Drs. Doug Stein and John Curington to use his office periodically to provide vasectomy services. Saturday vasectomy dates are listed in our Outfield Schedule Page. The counseling process can be done online by (1) reviewing our vasectomy page, (2) viewing the online counseling video, and (3) reading the vasectomy info sheet (this is a PDF file viewable with Acrobat Reader®, available here as a free download if you don't already have a copy of Acrobat Reader® on your computer). If you decide to proceed, please complete the Online Registration, indicating Aventura as your desired location and a date chosen from our schedule, when prompted. When our staff detects your registration in our secure holding area, we will call you to arrange a specific time on your chosen date. So only one visit is required, but you will have our office, home, and cell phone numbers so that you can always reach us if you have questions after your procedure. You will also be given a mailer, so that you can send a semen sample to our Tampa/Lutz office 12 weeks after your vasectomy to be sure that your semen is sperm-free.
21110 Biscayne Boulevard Suite 203
Aventura, Florida 33180
The total fee for the vasectomy procedure and follow-up semen checks is $590. Insurance often covers vasectomy or provides the benefit of a reduced contracted rate for those who have not met their deductibles (see "Private Insurance" on our vasectomy page). A deposit of $100 is required to be scheduled. The deposit is fully refundable until 7 calendar days prior to the appointed vasectomy date, non-refundable thereafter for either cancellation or postponement. The deposit can be paid by providing a VISA/MasterCard number during the online registration or by phone to our Tampa office (813-536-1430 or 866-827-8463). The balance of the fee ($490) is due on the day of the vasectomy, payable by cash or check. Credit cards are not accepted at this site, but you may prepay with Visa or MasterCard by calling your card number to the Tampa office (813-536-1430) during office hours: 9 AM - 4 PM Monday - Friday. If your vasectomy is covered by an insurance company with which Drs. Stein and Curington are contracted providers, your deposit will be returned to you when we are paid by your insurance company. Itemized and properly coded receipts are provided, and these may be submitted to insurance companies with which Drs. Stein and Curington are not contracted providers in an attempt to get reimbursement or credit toward your deductible. For questions about Medicaid, please click here.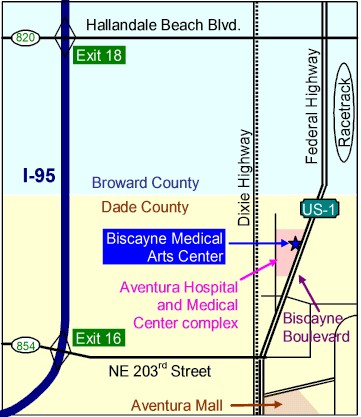 Approaching from the north: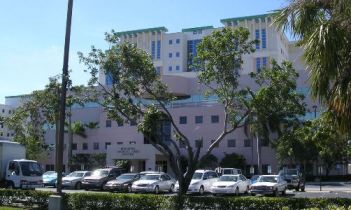 Approaching from the south: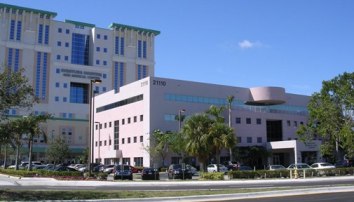 BMAC is located on US-1 just south of the Broward/Dade County line, between BMAC is located on Exit 16 and Exit 18 of Interstate 95. In Dade County, BMAC is located on US-1 is Biscayne Boulevard. In Broward County, BMAC is located on US-1 is Federal Highway. The Medical Arts Center is about midway between the Aventura Mall to the south and the Gulfstream Park Race Track to the north.
Dr. Shikara's office staff will be there with Dr. Stein or Curington to greet you on the day of your visit. If you must contact the office for directions or to report that you will be late, please try Dr. Curington's cell phone: 813-484-2104.
Directions:
From the south (Miami), take Biscayne Boulevard north directly to the BMAC or take I-95 north to Exit 16. Go east on NE 203rd Street 1 mile to Biscayne Boulevard. Travel north on Biscayne Boulevard 1/2 mile and the BMAC will be on the left.
From the north (Ft. Lauderdale), take Federal Highway south directly to the BMAC or take I-95 south to Exit 18. Go east on Beach Boulevard about 1.3 miles to Federal Highway. Turn right and drive south about 1 mile on Federal Highway and the BMAC will be on the right.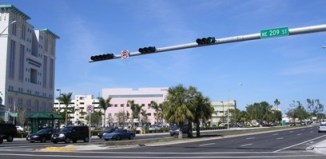 View on approach from the south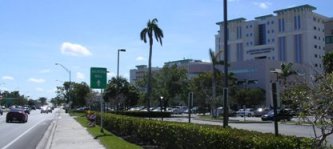 View on approach from the north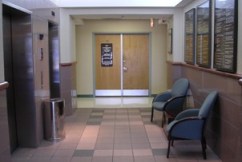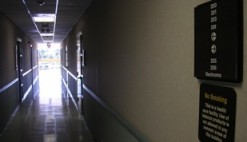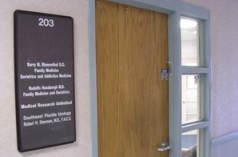 Take the elevator to the second floor, two lefts out the elevator, and Suite 203 will be the first door on the left.
To schedule, complete the Online Registration, then call Dr. Curington and Stein's office at 813-536-1430. Staff is available to take your call between 9 AM and 4 PM, M-F. During other hours, or if you get a recording because someone else is on the line, you may leave a message and his staff will return your call. They can also answer any questions that you may still have about no-needle no-scalpel vasectomy after reading about the procedure in the Vasectomy Page. On the day of your procedure, you will be asked to review and sign a printed copy of your registration, but there will be no additional forms to complete.
You may be in and out in under 30 minutes!
Financial Aid
If you have no health insurance and your income is low, you may qualify for financial aid under Title 10 from the Broward County Health Department or from the Dade County Health Department. Click for details. Drs. Stein and Curington are the vasectomy providers for both counties. Since Title 10 funds are federal (not county) funds, men need not reside in a county to be eligible for its support, so if your county is out of funds for the current fiscal year (July 1 - June 30), you may seek assistance in the other county.