Frisco, Colorado: Bears Den Condos A7 & A8

117 S. Sixth Avenue, Frisco, Colorado 80443

One Block from Frisco's delightful Main Street and a stop of the Free Summit Stage, with direct service to Copper and Breckenridge and one-transfer service to Keystone.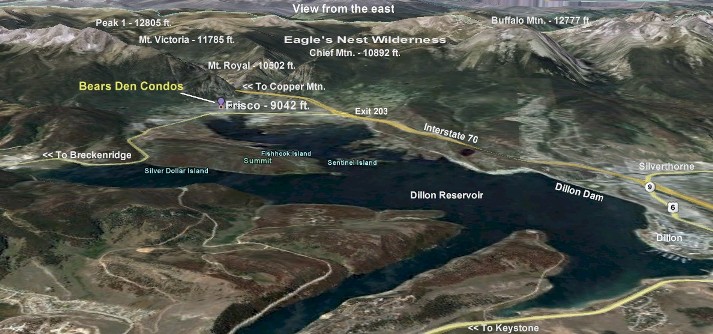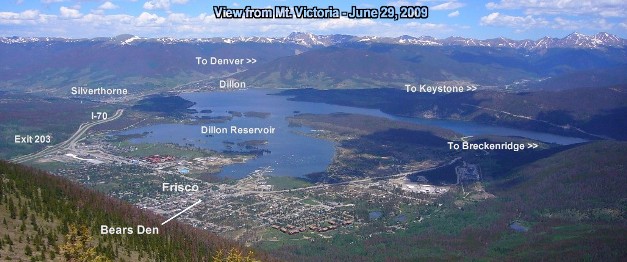 View of Bears Den from Main Street on a brisk December morning.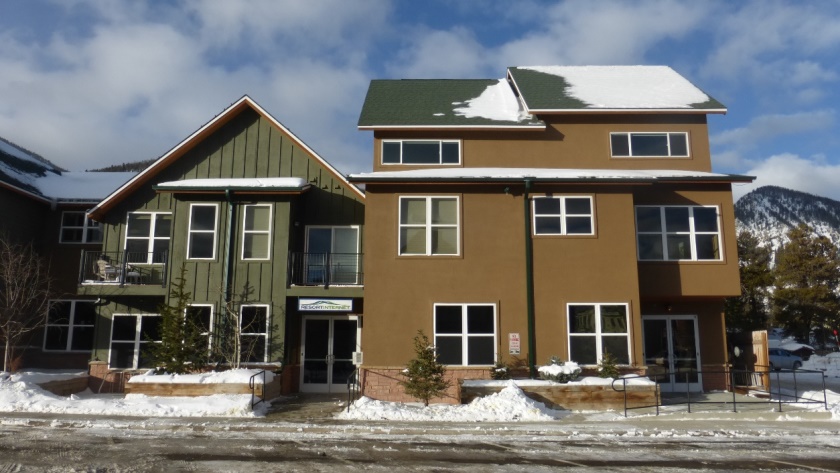 Beneath A7 and A8 is the commercial space of Resort Internet (www.resortinternet.com), a company that provides internet and TV services to resort properties throughout Colorado.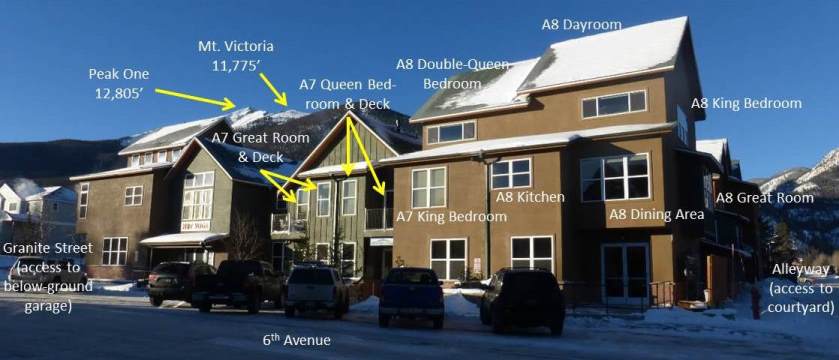 December 12, 2013, 8:10 AM
Resort Internet is active M-F from about 8 AM - 5 PM, but mostly clerical activity and we have never even heard them working below us. Beneath A6 is Summit Hot Yoga (summithotyoga.com), also very quiet; and what could be nicer than a hot yoga studio right downstairs?!


View from the intersection of 6th Avenue and Granite Street. There is no access to the 4 condos of Bears Den A Building from 6th Avenue.


To gain access, one drives down the ramp from Granite Street to the heated below-ground garage, then takes the elevator or stairs up two levels to A7 and A8. The shaded garage door keeps the garage and your car quite warm. Remote garage door openers are available in each unit for the duration of your stay. Once through the garage doorway, turn right and find the spaces clearly marked for A7 and A8.


From the street level, one gains access to A7 & A8 via the shaded courtyard entryway to the elevator and stairs.
A7 - 1268 sq ft

A7 Living Room with 46" TV and Bose sound system.

Fully-equipped kitchen

King bedroom. A thick twin-size foam mat under the bed can be brought out for an extra guest.



King bath:

Queen bedroom with plenty of floor space ...
... even after an inflatable twin bed is set up adjacent to the queen.
Guest bath
View from all windows after an autumn rain.

| | |
| --- | --- |
| | A8 Upper Level |
A8 - 1906 sq ft

For a more complete description of Bears Den A8, see our VRBO page here.
Great room and dining area. 53-inch Samsung LED TV with supplemental Samsung Blue Ray Disc player and sound system for TV, radio, or iPod.
Morning sun pouring in from the east.
View of Main Street and Buffalo Mountain
from the Great Room Sept 11, 2010.
Same view April 8, 2010. Time for spring skiing.

View from the Great Room of 6th Avenue and Main Street against the backdrop of the Williams Fork Mountains and the Ptarmigan Peak Wilderness to the northeast. April 8, 2010. At that intersection, catch the free Summit Stage bus to Breckenridge, Keystone, or Copper Mountain.
Fully-equipped Kitchen with hardwood floors and granite countertops.
Huge master bedroom with a king bed ...
Samsung LED TV,
and a sitting area ...
with views of Chief and Buffalo Mountains, Main Street, the Frisco community gardens, and the distant Ptarmigan Peaks Wilderness.
The Day Room converts quickly to double twin beds and has a quiet work area where one can catch up on e-mails or organize photos.

The Day Room has views to the east of Gray's and Torrey's Peaks, both 14ers but snowless on September 11, 2010.

The King Bedroom and Day Room share the king bath and a spacious walk-in closet where you'll find extra bedding as well as two twin-size foam mats and two twin-size inflatable beds.
The huge double Queen Bedroom (with new Simmons Beautyrest beds) has plenty of extra space for one of those twin beds, and its own private bath.

The views from the queen windows are of the hills between Frisco and Breckenridge and of quiet 6th Avenue.
A7 and A8 are two of only three condos in Bears Den served by an elevator to the heated underground garage two levels below. So it's like having your own private elevator with no need to brave the weather when returning to either condo from a ski or a hike or the grocery store.




Old Rental Rates from before we began to rent through AirBNB.
Season
Dates
A7
1268 sq ft
A8
1906 sq ft
Fall
Tue 9/5 - Fri 11/21
200
Thanksgiving Weekend
Wed 11/22 - Sat 11/25
250
Early Winter
Sat 11/26 - Tue 12/19
225
Christmas
Wed 12/20 - Mon 12/25
300

Post-Christmas
Tue 12/26 - Mon 1/1
400
2018
Mid Winter
Tue 1/2 - Thu 2/15
250

Height of Ski Season
Fri 2/16 - Sat 3/31
300
Spring
Mon 4/1 - Thu 5/24
200
A8 is now rented through AirBNB HERE. A7 through AirBNB HERE.
Add tax at 10.125% (rentals <30 days) and a cleaning fee of $130 (labor rates have REALLY gone up in Summit County).
5-night minimum during the Holiday Season.
Both condos are No Smoking units. No Pets.
For more information, please call Doug at

813-390-3032

.